Have you checked out Build a Sign.Com lately?
I want to tell you all about a great company
BUILD A SIGN.COM
. Last year when my husband was deployed they had a promotion going on for military, you can build a sign for free just pay for shipping. So in February I created a sign for my man, now usually I make a homemade one from a sheet and hang it up, but I was like I can't beat this price. So I was unsure what to post, lol since he was a previous tanker I would always write, Welcome Home DAN DAN my Tanker Man. But now he has changed his MOS. So now he's a Mechanic.
So this time I am doing a product review on my blog by Build a Sign.com, I was given the option to have a sign
No Parking Signs
created see below, ARMY WIFE PARKING!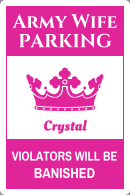 I went to the website - which is very easy to understand and navigate. I registered and in less than 15 minutes I had designed my banner. I must tell you that it took me longer to choose the design than it took me to create the sign.
I was also given BUMPER STICKERS to give out to my readers!
The sign is estimated to cost around $25. I love it and am psyched to look out for it at my races this spring! Megan designed
bumper stickers
that say "MILITARY WIFE". I give the the store 4 stars because even before I got a FREE ARMY WIFE SIGN, they had the military promotion about ordering a banner, and I have even used them for Blue Star Families, and that banner only cost me $50. I highly recommend getting a banner to hang up on your front porch when your man comes home!
The company
All of the products are 100% guaranteed. The process is made to be easy with fast shipping. It was a pleasure to work with them!
ENTER THE GIVEAWAY On May 23 2011 Lucky Readers will get a Military Wives Bumper Sticker!